CatalystX has completed the WordPress conversion process for iF Skin Care, completely decked out with fresh e-Commerce support, Social Marketing and SEO Tools. Their old design and required a mild bit of design on our parts, but we were ready and on-task, quickly putting out a child theme which mimics the look-and-feel of their print design.
A successful test of a Social Marketing campaign on 24-Oct-2013 yielded 2011 organic "Likes" on their Facebook page, along with the winner of a special prize for the 2000th visitor.
We look forward to future projects with iF Skin Care!
iF Skin CareAbout iF Skin Care, LLC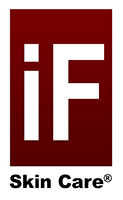 Valencia, CA-based iF Skin Care is a pioneer in the research and development of high-tech skin care products utilizing nano-technology. Through continuing product development, iF Skin Care is committed to building a portfolio of quality products with the highest standards and best ingredients. All iF Skin Care products are 100% handmade, to meet with stringent quality standards. Their products are proudly made in USA.
Please visit the iF Skin Care site for more information about their products.